Sujatro Ghosh is a 24-year-old (1993) feminist artivist, artist activist, Calcutta-based. He is well known for his Cow Mask project that went viral last summer 2017 and has also contributed in other less-known photojournalistic enterprises. The Cow Mask Project could be visited recently in Laval, France, in his first solo exhibition in France.
Many interviews and articles can be found on the internet related to the Cow Mask project, Ghosh's Master project, which consists in portraits of women wearing cow masks that report their current situation in India.
Even if cows have been considered for a long time sacred by the majority religion of India, Hinduism, "After the rise of the right wing in the government, cows began getting more sacred. In 2014, when they started to rule, India witnessed a lot of incidents where, in order to protect cows, many people were killed. And this is still going on"  Ghosh explains. If we add this to the fact that every 15 minutes a rape is reported in India, we may be able to understand why this particular project has caused such a commotion: "Some part of the society was disturbed because of this, so I tried to bring up both of the issues together, and this is how this project was born".
Why do we know you as the "Cow Mask project" photographer but not as well as a photojournalist?
The Cow Mask project went viral all over the world last summer and it has been published and shared so many times. Somebody told me there are thousands and thousands of publications on this particular topic. But if you associate my name with transgenders or the Nepal earthquake, you may find many other pictures as well. I work with social issues and I try to bring up the questions that arise in my work.
As this project is for anyone, I use my mobile phone.
How do you take the pictures?
The Cow Mask project is completely shot with the mobile phone and I prefer to do so because I call it a public project, and common people do not normally have access to professional cameras. As this project is for anyone, I use my mobile phone. Other than that, I own some cameras but I use any available when I am shooting for someone else.
We normally interview artists that care about the traditions and heritage of their countries, with your photos, you seem to highlight unfair customs. Which other traditions/costumes would you like to change in India?
My primary intention is never to change the tradition but probably to normalize the theme. I understand the emotions about cows and Indians, or maybe cows around the world, but what I wish to do is not to change their believes but probably restructure them in a way that people have a more educated point of view. I am not looking to change traditions but I am probably trying to educate people in a different way where they do not have this misleading believes, like drinking cow urine as a holy thing.
Sometimes when we think of virality, we think of a stroke of luck but how has your path to a recognized art activist really been?
I think it was about waiting for the right time while speaking out my heart. I belong to a middle-class family in India, my family did not set me up in the industry and I have worked and struggled for 4 years, since college. I studied journalism as my basic education and then I did a postgraduate in photography and visual communication. I started working in the field of photojournalism and as a fashion photographer and after that for non-profit organizations all around the world, freelancing and interning.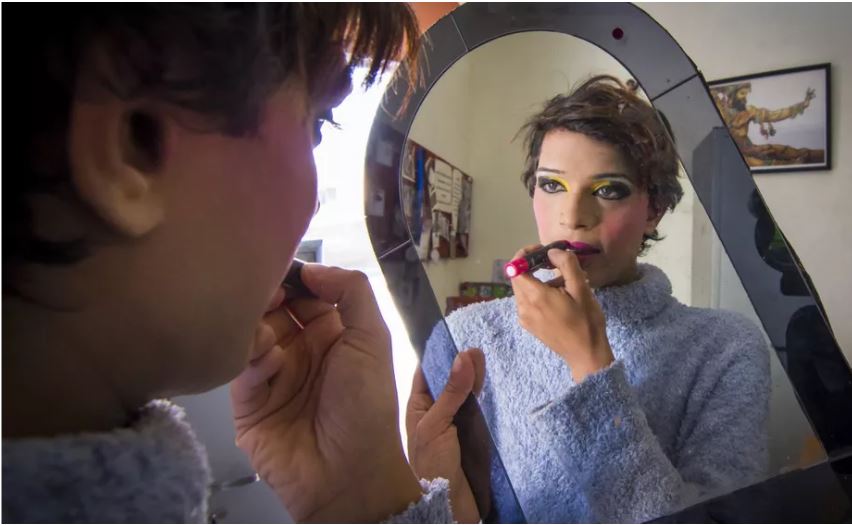 We know that most artists cannot afford to work in the art world full-time, how is it in your case?
I tend to walk around the social sphere and in the meanwhile I try to be a freelance artist, I feel fortunate because of that. After all the effort, I think it is about being relevant and understanding what you really want to do. That will probably help you achieve whatever you want.
This is the relevance that a good artwork must have, to the society and to me as an artist.
What do you mean with "relevant"?
My art is relevant because it is something I have feelings for, that is, the connection that I have with the people that I work with. If you do not enjoy your work, you will probably not get the result that you expect. Other than that, it must be relevant for the society. Every work that I do is current and happening in India. This is the relevance that a good artwork must have, to the society and to me as an artist.
Does all your work relate to India?
The cow topic is an Indian way of seeing things because cows are an Indian issue. But, if you look at it from a global perspective, the cow is not only an Indian problem but also a sign of femininity. In the western world, men are associated with horses and women with cows. This is why you may have seen that I have also started photographing women wearing cow masks all over the world. It is not only an Indian problem, maybe I started raising up the question of women rights through India and the symbolic Indian cow, but after a time I have tried to talk about human rights and protection in more depth.
What about the #metoo in India?
In India, the #metoo has not been as big as in other parts of the world. It is an exceptional movement that has let women speak up their minds. But in India, we have not seen that much #metoo compared to other countries. As long as victims are speaking out their heart and the people who are oppressing get the right medicine, I completely sing up for the right to speak. Perhaps in India, it won't have the shape of a hashtag "metoo" but I am sure women in India will eventually get to the level of revolution of Europe or America and stand out their voices.
In India we have not seen that much #metoo compared to other countries
My favourite place in the world is Calcutta because it is very slow and, while the whole world is running, Calcutta has its own pace and the thing to give me mental peace. So, whenever I am tired or whenever I have to meet my family or my friends, it is always where I come back.
My favourite art gallery in Calcutta… I like Experimenter which is an art gallery. But the city is not all about photography and paintings, there are different artistic performances and theater halls, I really enjoy the artistic atmosphere of the city.
My favourite well known artist…There are many, calling only one would be unfair… JR and Basky
The international art festival that I like the most is… Photo Ville in New York.
My studio is the whole world. Wherever I have space and good food can work. It is pretty much home-made and I hardly photograph outside.
The food that I enjoy eating in my city… In Calcutta Chinese food is very big because here there is the biggest Chinese colony in India. It also has China towns, so it is full of Chinese food! And Chinese food from Calcutta is very indianized and it is great. In Calcutta I go to Kim Ling. Anyway, Chinese is probably one of the best foods, it does not mind where you have it.