Rain Wu is a Taiwanese-born, London-based artist currently doing a residency at the Food Lab of the Jan Van Eyck Academy in Maastricht in the Netherlands. She received her formal education as an architect at The Bartlett School of Architecture UCL and afterwards pursued a master degree in architecture at the Royal College of Arts. Apart from practising as an architect and professor, Wu has developed a career in the art field which includes installations and the use of food to create artwork.
An architect that makes (food) artwork and installations, can you explain how art and architecture relate?
Architecture quite often comes as a service that uses the space whereas in the artworld it is about making somebody else's experience and that is what I like. I create spatial experiences as an art practice, therefore my medium is the space. I am interested in making a reflection about where we are in the world.
Ver esta publicación en Instagram
Two years ago I made a piece of work that was a response to the democracy in Taiwan. Then I was reflecting on Taiwan only being truly free for the last 30 years and my generation being the first when civil demonstrations do not end with people in jail or in worse situations. This was an important fact for me. Therefore, we made the installation of police shields and inside there was a garden, the question there was, are the shields protecting the garden or are they resisting the garden? It was about putting two things together and making people read into it deeply enough. Then you may start to think 'would we be protected by the government or resisted by the government? Are we protecting each other?' For me, it is about provoking the questions more than saying this is right or wrong.
Ver esta publicación en Instagram
I also did a piece of work in Palestine. There it is very difficult to import materials because they all have to pass through the Israeli border, so we had to use what was available locally. We asked a stonemason to build us a bridge of Jerusalem stone with their traditional technique and then we got galvanised steel.
Ver esta publicación en Instagram
And how did your relationship as an artist with food start?
My relationship with food came only three years ago when I did a project called Eataipei about using food as a way of story-telling. It was carried out in collaboration with a chef and a designer and the idea was to expand our senses in the visual arts, because in most exhibitions we mainly remain in the visual. For this project, I made small food-sculptures which were edible and in this way people could experience something that was not just as visual. After that, I have also worked with chefs in London in food design projects.
How do an artist and a chef collaborate making sculptures?
For example, for one of the dishes, I told the Chef: 'Since this dish is about the cultural foundation I would like to make something similar to a fossil, with a geometric shape. It needs to be in layers and it has to look like if you had just picked it up from the ground' and then the Chef may suggest the suitable ingredients, for example, to make the layers with rice. This is how it works more or less.
And what are you doing now at the Food Lab?
I want to develop a bit more the knowledge that I have acquired in previous food and art projects. For my open studio piece I made some experimentation on painting bread with different food materials, they eventually became a sort of canvas. I think food is very powerful, there is no other material that can go through your body without harming it and there is no other thing that people really have to do at least three times a day apart from eating. I also like its social aspect as well.
Ver esta publicación en Instagram
But, what does food have to do with architecture? Can you build out of food?
Interestingly, the Dutch were in Taiwan four hundred years ago and they built a few forts with edible materials in my hometown, Tainan, which used to be the capital city. They made the walls out of oyster shells. Some bits of oyster shell were used as aggregates and others were pounded to use as a slime together with rice. Another interesting material that can be used to construct is mushroom, in the Academy, we are trying to get some mycelium growing different types of mushrooms. You can create a brick out of this material impregnating some substrates with it. After that, its roots will start growing and linking the substratum together. And food can be used as a painting material as well, I would like to experiment with egg tempera, making pigments out of egg.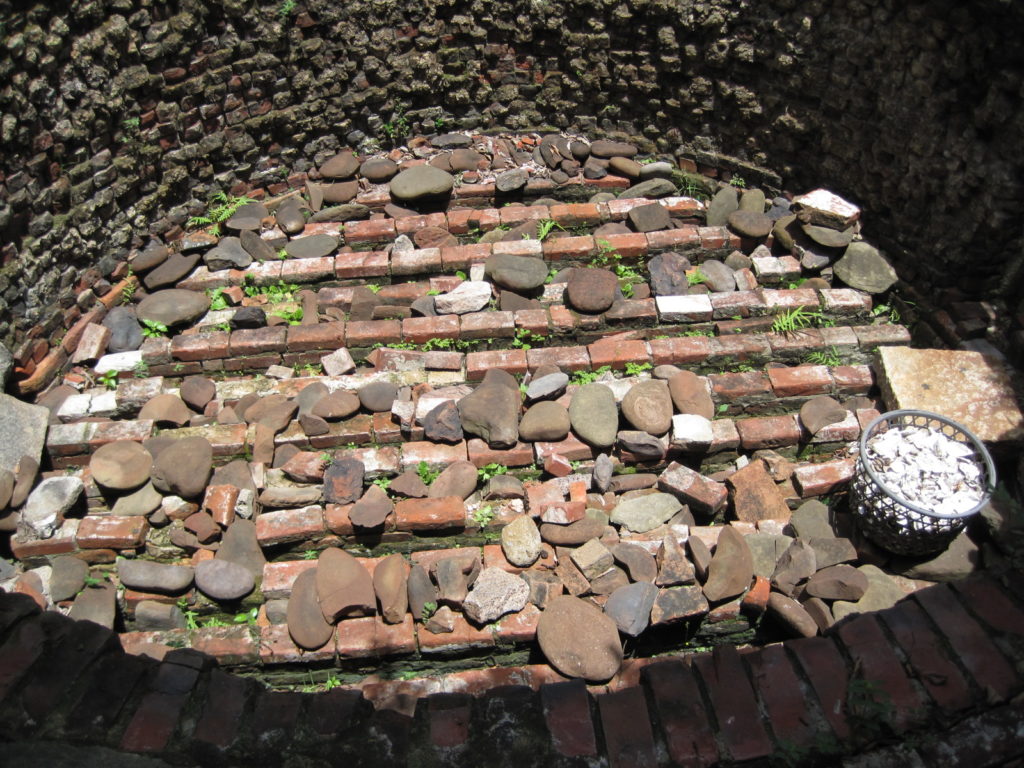 Now it is possible to eat any type of food in any part of the world. But, is there a Taiwanese ingredient difficult to find in Europe?
In general, it is quite easy to find the suitable ingredients but sweet potato leaves, which we eat a lot in Taiwan, is one thing that people don't value here and they are not easy to find.
And how about authentic Taiwanese food? Is its authenticity about the receipt or about the cook?
Anyone can potentially cook any dish from any type of cuisine. The problem is that, if you have never tasted traditional food, you can't really cook it. The difficulty may be that fewer people have had the experience of having traditional or street Taiwanese food.
Ver esta publicación en Instagram
What do you see in the Taiwanese spaces when you come back home?
Every time I go to Taiwan I look at it with a fresh eye and I really like the informality of the culture and also the fact that people are pretty much used to eat by the street. Lots of stores are at the corners of the roads and they occupy a bit of the pavement where you can sit on a bench or seats. At the end of the night, all the chairs will be gone and in the morning it becomes the pavement again. People use the urban environment a lot more there.
Ver esta publicación en Instagram

My favourite Taiwanese restaurant is… There is a nice Taiwanese restaurant in London called Bao. There are actually three of them and the one that I like the most uses films as a reference for the interior architecture, so when I went for the first time I really thought I had been transported back to where my parents were raised. It has the style of the 20-30-40's Taipei.  What is also interesting from this restaurant is that they always take a Taiwanese dish and they modernize it and create their own versions. It is a sense of proud that this is one of the best restaurants in London and that it is also Taiwanese. It is run by a fashion designer, an artist and a designer.
The chef that I admire most is… René Redzepi, the chef of Noma, Denmark. He travels a lot and when he goes to a different place he publishes Instagram stories and posts where he looks at every ingredient in a scientific, almost detective way. He speaks about the tastes and the textures of the ingredients that he discovers.
My favourite well-known artist is… Cy Twombly.  He was an abstract painter and I really like how he reached a place where he could be truly free in doing what he did.
Ver esta publicación en Instagram
An art gallery that can't be missed…Tainan is a very old city and there are lots of old houses built during the Japanese occupation time, some of them were made of wood and others of stone. The stone ones were own by the richer and one of those has been converted into an art gallery and it is called B.B.ART. It is really nice because it uses the traditional Taiwanese house with a front house, a courtyard in the middle and then the back house and it has at least three stores.
My favourite art fair… Sharjah art biennial, it is very interesting because it is one of those places that unless you are going there to see the biennial you wouldn't go there. Last year I participated there and during the opening, they had 5 days full of events like lectures, formative talks, and performances. It is settled in a very interactive way.
Ver esta publicación en Instagram